ARTISTIC INTERPRETATIONS OF CERAMICS, SWEDISH TILED STOVES & PUBLIC ART
ARTIST TALK
Design of unique tile stoves –
Annika Svensson
Tuesday 27 September 2022, at 19.00
Annika Svensson is a ceramicist, tiled stove maker and artist. In her entirely self-made tile stoves, art and function are combined. They are placed in both public rooms and residential environments. This evening she shows photos and tells how inspiration and processes flow together into different designs, methods and own production.
Date:
Tuesday 27 September 2022, at 19.00
Place:
Kulturhuset Kajutan, at Hamntorget in Henån
Costs:
80 SEK
Tickets are booked via Nortic.se We also sell tickets at the door subject to availability
Link to the event: https://sv.se
Sthlm Craft Week
6–9 OCTOBER 2022
Experience internationally acclaimed contemporary crafts in and around the capitol during
Stockholm Craft Week
6-9 October 2022.
ARTIST TALK at
KONSTHANTVERKNA 9 October
Artist pitch x 6
11:30 – 14:30
Address:
Södermalmstorg 4, Stockholm
Would you like to know more about different materials within the dynamic field of craft? On Sunday, six members of Konsthantverkarna present their respective material in Artist Pitches. They talk about their own work, show examples and answer questions. Each Artist Pitch last about 20 minutes and there is room for 15 listeners in each group.
About artists
Annika Svensson – ceramic
Cecilia Levy – paper
Tina Olsson – textile
Matilda Kästel – glass
Ann Karlholm – wood
Jenny Edlund – jewellery
Link to the event: https://stockholmcraftweek.se/start
TILED STOVES AND CERAMIC ART
FOR DYNAMIC INTERIOR DESIGNS AND PUBLIC SPACES
For two decades I have been actively working to evoke interest in the tiled stove as part of the modern home.
Cultural heritage is combined with artistic expression and dedicated work to combine functional ceramics with unique form in architecture.
I always give my artwork full focus regardless of scale, be it public commissions, unique tiled stoves or sculptures.
In recent years, I have also undertaken commissions to create art in public spaces such as hospitals and schools. My work is often formed into soft, undulating shapes which are asymmetrical to create harmony.
Regardless of the type of project or sculpture, presence and care is taken with the materials, so each unique detail will enrich the overall expression and fulfill my idea.
"Craftsmanship is at the heart of everything I make. Each piece is made by hand with care, with great care."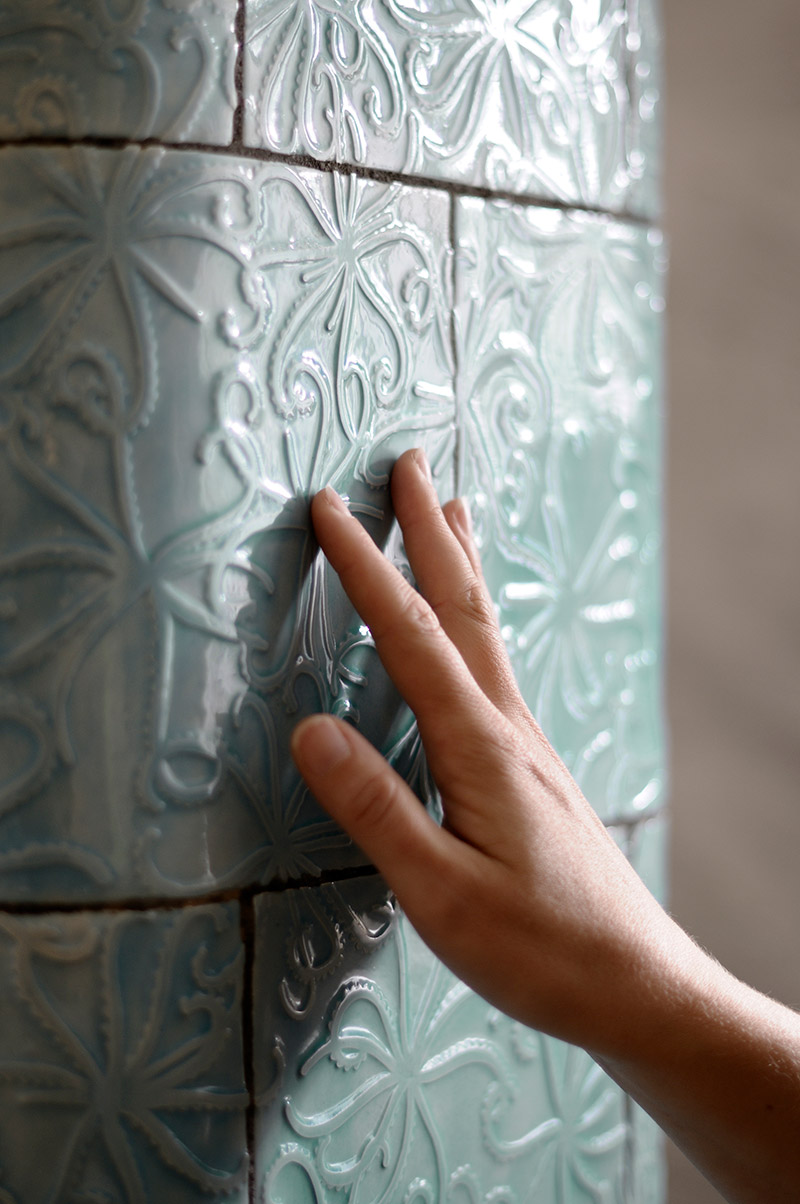 "A tiled stove made by Annika Svensson delivers even and pleasant warmth, along with a bit of madness and lust for life."
Petter Eklund
Writer
"The traces of the labor of the hand and their personal appeal convey a sense of life and presence."
Love Jönsson
Art critic
"Once you have seen one of Annika Svensson's tiled stoves, you cannot forget it."
Boel Ulfsdotter
Design critic
Annika svensson – CONTEMPORARY SENSITIVITIES
ARTISTIC INTERPRETATIONS OF CERAMICS, SWEDISH TILED STOVES & PUBLIC INSTALLATIONS
This publication provides a comprehensive overview of the oeuvre of Annika Svensson, whose large, warm and inviting tiled stoves have become magical linchpins, expressive works which represent a unique contribution to contemporary ceramic art.
For twenty-five years, Annika Svensson has rejuvenated an entire line of ceramics with nerd-like insistence and tenacity. The tiled stove, for centuries a proud companion in Swedish homes, is given by her hand a sculptural form in addition to its utilitarian purposes.