ARTISTIC INTERPRETATIONS OF CERAMICS, SWEDISH TILED STOVES & PUBLIC ART
Sthlm Craft Week

2 October 17.00
My artist talk was recorded at Konsthantverkarna during Sthlm Craft week. So for those of you who missed the opportunity can still see it here:
ARTIST TALK with Annika Svensson (in Swedish)
KONSTHANTVERKNA 2 October 17.00
Listen to Annika Svensson's artist talk. Annika is a ceramist and she will tell about her unique tiled stoves which she both designs and builds with great artistic care. Annika also gives examples of public art she has executed – what do the commissions and work processes look like?
Link to the event: https://stockholmcraftweek.se/lordag-2-oktober
TILED STOVES AND CERAMIC ART
FOR DYNAMIC INTERIOR DESIGNS AND PUBLIC SPACES
For two decades I have been actively working to evoke interest in the tiled stove as part of the modern home.
Cultural heritage is combined with artistic expression and dedicated work to combine functional ceramics with unique form in architecture.
I always give my artwork full focus regardless of scale, be it public commissions, unique tiled stoves or sculptures.
In recent years, I have also undertaken commissions to create art in public spaces such as hospitals and schools. My work is often formed into soft, undulating shapes which are asymmetrical to create harmony.
Regardless of the type of project or sculpture, presence and care is taken with the materials, so each unique detail will enrich the overall expression and fulfill my idea.
"Craftsmanship is at the heart of everything I make. Each piece is made by hand with care, with great care."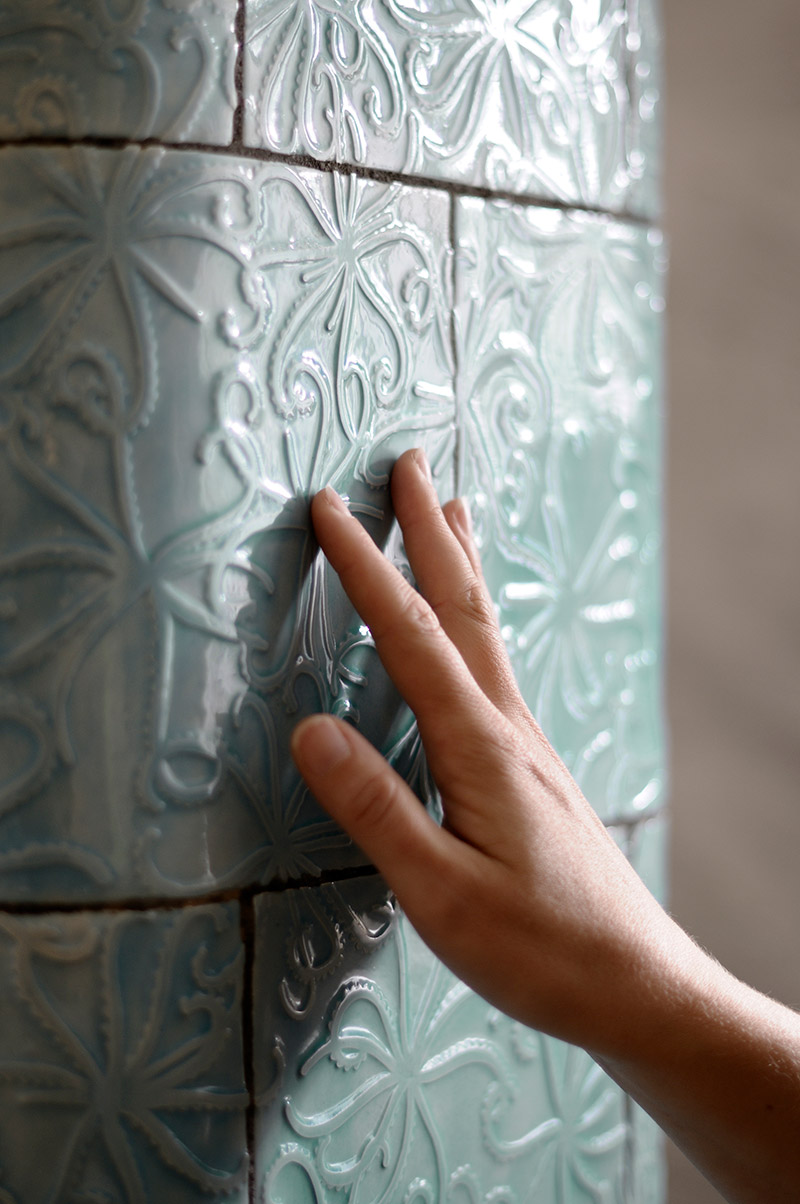 "A tiled stove made by Annika Svensson delivers even and pleasant warmth, along with a bit of madness and lust for life."
Petter Eklund
Writer
"The traces of the labor of the hand and their personal appeal convey a sense of life and presence."
Love Jönsson
Art critic
"Once you have seen one of Annika Svensson's tiled stoves, you cannot forget it."
Boel Ulfsdotter
Design critic
Annika svensson – CONTEMPORARY SENSITIVITIES
ARTISTIC INTERPRETATIONS OF CERAMICS, SWEDISH TILED STOVES & PUBLIC INSTALLATIONS
This publication provides a comprehensive overview of the oeuvre of Annika Svensson, whose large, warm and inviting tiled stoves have become magical linchpins, expressive works which represent a unique contribution to contemporary ceramic art.
For twenty-five years, Annika Svensson has rejuvenated an entire line of ceramics with nerd-like insistence and tenacity. The tiled stove, for centuries a proud companion in Swedish homes, is given by her hand a sculptural form in addition to its utilitarian purposes.